C.B. Fry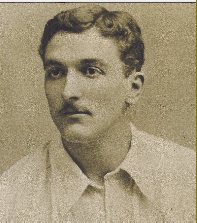 Charles Burgess Fry, M.A., F.R.G.S., was renowned as the star sportsman of his generation, with an array of talents that has never been equalled. His achievements left a whole generation idolatrous and awestruck. He was the ultimate all-rounder, representing England at two sports and equalling the world record in a third. His fame led to his being offered the Throne of Albania.
Fry's connection with Repton seems to have been accidental. He was born on 25th April 1872 at West Croydon in Surrey. After prep school at Hornbrook House (where the headmaster was a son of Dr. Pears, the great headmaster who raised Repton to the status of a major public school) Fry was destined for Aldenham. However, he was sent first to Repton - apparently to coach him for entrance to Aldenham - won a scholarship to Repton and stayed.
He is described as tall, handsome, athletic, intellectually gifted but not particularly ambitious. He described himself as being "damned lazy with a huge fund of energy". He was undoubtedly a brilliant conversationalist. It was said of him that with his nimble brain and command of languages he could talk with rare knowledge on any subject that intrigued him, be it the "square root or the square cut". Neville Cardus, in a tribute written for Wisden after Fry's death, described him as the "inexhaustible virtuoso at the best of all indoor games, that of conversation."
Academically he was outstanding; at Wadham College, Oxford (1892-95) he achieved first-class honours in Classical Moderations and won a major prize for poetry, whilst gaining a cricket blue in all four years, together with blues in athletics and soccer.
In 1901 Fry represented England at soccer against Ireland, and in the following year he played for the losing side, Southampton, in the F. A. Cup final.
However, it was in cricket that Fry reigned supreme. He played for Sussex, London County, Hampshire, Europeans (India) and England. Even by today's standards his record is remarkable. In Fry's day, however, batting was more difficult; wickets were less well prepared, they were not covered and the outfield was slower. Having begun with a duck in 1892, he went on to score 30,886 runs at an average of 50.22. That puts him on a par with the great Jack Hobbs (61,237 runs at an average of 50.65). For six seasons he led the batting averages. In 1901 Fry scored 3,147 runs with an average of 78.67 and in 1903, 2,681 runs at an average of 81.3. This was his best season and one in which he added 13 centuries to his tally. His career total of 94 centuries including six in a row as captain of the England Cricket Team in 1901, followed by an innings of 70. He was the first batsman ever to score six consecutive first-class centuries, a feat later equalled by Sir Donald Bradman of Australia and Mike Proctor of South Africa but not yet beaten. Their innings, however, were on firm Southern Hemisphere wickets during the course of a leisurely first-class season; Fry set his record in a period of just over two weeks on natural, uncovered wickets.
In his debut as an England cricketer, Fry opened against Australia with W.G. Grace. In all, he appeared 26 times in Test matches and was captain in the Triangular Tournament of 1912. However, he was never available for overseas tours. Fry was unbeaten as an England cricket captain and in later years was a member of the national selectors. In 1921, at the age of forty-nine, Fry's test career was long over. He did, however, appear for his county against the visiting unbeaten Australian tourists, scoring 59 and 37 runs in the two innings. As a result he was invited by the selectors to captain England again. He declined and promptly retired from all first class cricket.
He jested that he only had one stroke but it went to ten different parts of the field. In 1905 Australia determined that his one stroke meant that most of his shots ended up in front of the wicket on the on-side. They set a field accordingly. Fry scored 144.
Fry and Ranjitsinjhi, one of the most memorable of partnerships both for Sussex and England, together changed the game of cricket significantly; it is said that nobody late-cut like the magical Indian prince, nobody on-drove like Fry. Ranji, well-off and generous, was to be Fry's friend and supporter through many years of trouble.
As an athlete also Fry excelled. Whilst still an undergraduate at university he set the world long-jump record of twenty-three feet five inches, a record which stood for over twenty-one years. It was an event in which he was never coached and in which he never trained, only competing when there was a competition to be won. It is recorded that on the day he set the record, Fry was smoking a cigar in the dressing room when the event started. He put his cigar down, removed his jersey, ran out on to the track, set the record, returned to the dressing room and finished his cigar. All this took place in 1896, the year of the first modern Olympic Games, held whilst Fry and the English team were returning from their South African tour. Had he been aware of Olympic Games (apparently they were very badly publicised) there is every chance he would have won the gold medal; the winning jump, by the American, Ellery Clark, was nearly a metre short of Fry's record leap later in the year. Fry was also a brilliant sprinter and contemporaries believed that here too he might have won an Olympic medal.
If all this were not enough, he played tennis and golf to provincial standard and also played rugby to a high standard for Oxford, Blackheath and the Barbarians. Other sports he excelled in were boxing, swimming, track and field athletics, hunting, fishing and sculling (rowing). Even allowing for the fact that in his time sport was very much an amateur pursuit, Fry's talent was legendary. Small wonder that he was described by John Arlott as "perhaps the most variously gifted Englishman of any age".
After university Fry taught for a short spell at Charterhouse and then moved into journalism. He was a gifted writer who became a fine journalist. His own publication, "Fry's Magazine", was published from 1904 until the war. He wrote several books on cricket, including the widely acclaimed "Batsmanship" regarded as the first definitive book on the subject. Representing India at the League of Nations after World War 1, he wrote the technical textbook for the organisation, "A Keybook of the League of Nations". His entertaining autobiography is entitled "A Life worth Living".
In 1898, at the age of 26, he married Beatrice Sumner, a cruel and domineering woman. For a man who should have been highly eligible, she was not the obvious choice; not only was she 10 years older than him, she had the scandalous past which in those days closed many doors. However, the marriage may not have been unconnected with the fact that Beatrice's lover Charles Hoare, with whom she had been involved since the age of 15, and who was the father of her illegitimate children, was rich enough to finance all three of them. (Fry was constantly short of money, even resorting to nude modelling to make ends meet). However, his wife made him thoroughly miserable and he tried to stay away from her as much as possible. When she died, she and Fry had been married for 48 years. Fry adjusted to her death with great equanimity and even her children showed all the freedom of the newly liberated.
With the world apparently at his feet, Fry chose to devote 42 years to running a training ship, the Hamble Naval College, anchored on the River Hamble near Southampton, entirely without remuneration. The ship prepared young boys for service at sea either in the Royal Navy or the Merchant Marine. The navy honoured him for this role, making him a Captain in the Royal Navy Reserve.
It was after the First World War, in which Fry, running the Hamble Naval College, had taken no part, that he was invited to become Charles III of Albania. It came about via Prince Ranjitsinjhi, who had been one of India's three representatives at the League of Nations and had taken Fry with him as a speech writer. Albania's royal family was of German extraction and had returned to Germany, leaving them with no representative in Geneva. They approached Fry. However, as the Albanians were looking for a man with an income of £10,000 a year, which Fry did not have and even Ranji would not provide, the kingdom was never his.
On three occasions he was persuaded to stand as a candidate for the Liberal party in Parliamentary elections. Whilst each time he successfully increased his party's share of the vote, it was never enough for him to be elected.
It would be wrong to gloss over Fry's weaknesses. He was mentally fragile and even before he left Oxford, he had already suffered a nervous breakdown. In the Twenties, his mental health again started to deteriorate. He was anxious and excitable playing cricket, suffered increasingly from nervous breakdowns and in India in the late Twenties with Ranji, became thoroughly paranoid. For the rest of his life, he dressed in bizarrely unconventional clothes and had frighteningly eccentric interludes. He developed a horror of Indians which included Ranji, a true friend who had supported and looked after him through years of illness. He was never entirely well again.
During the early 1930's, Fry was invited to Germany to advise on the building up of a national youth movement. He met Hitler in 1934. Although well briefed, he was carried away by the size and enthusiasm of a meeting where the Führer was opening an autobahn. He was impressed with the calibre of young men and women who, he thought, compared very well with young people in Britain. At his hour-long meeting with Hitler, he fell under his spell and seems totally to have accepted Hitler's assertion that the Jews in league with the Bolshevists had a stranglehold on the country. A number of Hitler Youth boys were made welcome at the Mercury training ship and Fry was still expressing enthusiasm for them in 1938.
Fry died at Hampstead on 7th September 1956. Following cremation at Golders Green, his ashes were interred in Repton. The obituaries were fulsome, but after the golden days of his youth, what a disappointing life it must have been. In 1984, his son said: "My mother ruined my father's life". That may have been too easy a verdict.
He is the subject of several biographies as well as his own autobiography. There is a blue plaque at 8 Moreland Court, Finchley Road, NW London, where he lived after 1950.