Repton Saints
St Werberga
Werberga, daughter of Wulfhere, King of Mercia and his wife St Ermenilda, daughter of the King of Kent, may have been the first recorded abbess of Repton. (This is locally recorded, but receives little support elsewhere.) She was a nun for most of her life, and was tutored under her great-aunt Etheldreda, the first Abbess of Ely and former queen of Northumbria. She was instrumental in convent reform across England, and eventually succeeded her mother Ermenilda, her grandmother Seaxburh, and great-aunt Etheldreda as fourth Abbess of Ely. She died about 699. Today she is known as St Werburgh.
St Edburga of Repton
St Edburga appears to have been a daughter of
King Aldwulf
of East Anglia. She became Abbess of Repton under the patronage of
King Wulfhere
of Mercia, the husband of her second cousin,
St Ermenhilda
. Edburga died around AD 700* and was either buried at or later translated to Southwell Minster where her relics were revered in the Middle Ages.
| | |
| --- | --- |
| * | When Guthlac (d. 714) was dying, it is recorded that Abbess Edburga of Repton sent him a shroud and a leaden coffin. Is this a different Edburga, is one or are both of the dates wrong, or is the story an invention? |
St Guthlac
St Guthlac (c. 674 - 715), a son of Penwalh of Mercia, and St Pega (d.719) were brother and sister. Their family was related to the royal family of the Middle Angles.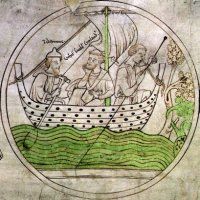 It is said that Guthlac's birth was marked by signs from Heaven. As a boy he was inspired by the valiant deeds of heroes of old; he served in the army of Aethelred of Mercia for eight or nine years, gaining war-booty and attracting followers from many parts of the country. At the age of twenty-four, he began to think about the wretched deaths of secular heroes and underwent a religious conversion. He entered the monastery of Repton and received his tonsure from Abbess Aelfthryth in about 697 AD. After two years of great penance and earnest application to all the duties of the monastic life, he became an anchorite at Croyland, then a lonely island at the western edge of the Peterborough Fen.
Here he spent fifteen years of the most rigid penance, fasting daily until sundown and then taking only coarse bread and water. Guthlac endured many trials and temptations. On several occasions Guthlac was rescued from demons by St Bartholomew, to whom he had a special devotion. It is said that he loved the birds and beasts, while the fame of his sanctity brought throngs of pilgrims to his cell. He was visited three times by his cousin Aethelbald of Mercia when the latter was in exile and in need of spiritual comfort.
Dying, Guthlac sent for Pega who, finding his body incorrupt, placed it in a monument which King Aethelbald had decorated. After his death, Guthlac revealed in a vision to Aethelbald, that one day he would become king. The prophecy came true in 716. Guthlac's relics were associated with miracles and his tomb soon became a centre of pilgrimage. On becoming king, Aethelbald proved himself a generous benefactor. A large monastery arose and Croyland became one of the richest spots in England.
Guthlac's cult was enormously popular. Two Old English poems about him survive in the Exeter Book, and he is mentioned in the Anglo-Saxon Chronicle. Even after the Anglo-Saxon period, and long after his death, Guthlac's cult still had widespread appeal. The British Library holds the Guthlac Roll, an illustrated roll of his life created in the late 12th or early 13th century, probably for Crowland Abbey.
The anniversary of his death, 11th April, was kept as his feast.
St Wystan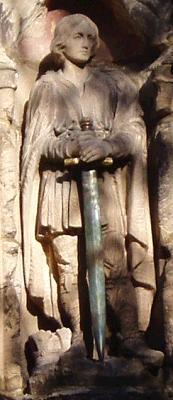 Wystan (or Wigstan) was the grandson of King Wiglaf and a prince of Mercia. In a struggle over the succession to the Mercian throne he was murdered (probably in 840) by Berhtferht, the son of Wiglaf's successor, and brought (perhaps in 849) to his grandfather's mausoleum at Repton. Miracles occurred. Florence of Worcester, writing before 1118, tells that a column of light shot to heaven from the place where he was murdered and remained visible for 30 days.
When the Vikings invaded, the remains of St Wystan were taken away by escaping monks; they were returned to Repton when the Viking menace disappeared.
The Chronicles of Evesham Abbey show that the veneration of Wystan as a saint continued far into the middle ages. They record that King Cnut (1016-35) "caused that glorious martyr to be moved from Repton to Evesham", they give a list of miracles said to have been performed at his shrine at Evesham, they add picturesque detail about the supposed circumstances of his martyrdom, and they record that a small part of the relic was returned in the 13th century to the Norman priory at Repton.
St Wystan is represented as a Saxon prince leaning on his sword. His feast day is the 1st June.